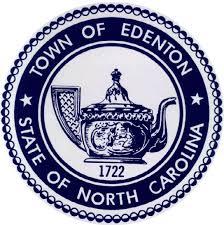 The Edenton Police Department is  now accepting applications for the position of Police Sergeant. 
ENTRY SALARY: $41,571 – $62,357 (Depending on Experience), excellent benefits package including: employer-paid medical, take home vehicle, cell phone, 401K program, uniforms and all equipment furnished.  Visit www.edentonpd.com for more information about the Town of Edenton and the Police Department.  
DUTIES:  Supervises all activities on a shift or platoon within the Police Department; assists in communicating department vision, mission, and philosophy of law enforcement; reviews officers reports; oversees and participates in field training of rookie officers; conducts performance evaluation and performance counseling; ensuring efficiency and effectiveness of patrol activities. Schedule staff; approves leave; recommends and schedule staff training; participates in planning and/or conducting in-service training; locates and schedules replacement staff for leave or training absences. Oversees proper use and maintenance of vehicles, weapons, uniforms, equipment and supplies; insures staff are properly equipped. Plans, organizes and leads staff in conducting a variety of criminal and narcotics investigations; interviews witness and suspects; works cooperatively with other law enforcement agencies; plans special surveillance, undercover drug purchases; or other activities to address high priority community issues; works collaboratively with the community to identify and address problems and create trust; identifies; processes and maintains chain of custody for evidence; may serve as evidence custodian for the department; prepares cases and reports; works with the DA's office on charges and cases; presents testimony in court; interprets and applies various criminal laws; follows appropriate criminal process and court cases. Determines assignments and appropriate response to the variety of calls which may be forwarded; provides technical advice on how to respond in certain situations; and ensures proper approach on sensitive work assignments; backs up officers. Participates in patrol functions to include responding to calls; serves papers; make arrests; identifies, collects; and preserves physical evidence; and prepares written reports to patrol activities. Cooperates with local citizens, members of other local, state, and federal law enforcement and investigative agencies in the identification, location, apprehension, and arrest of offenders and in the investigation of criminal activities. Performs special departmental projects such as researching new programs, coordinating vehicle maintenance, coordinating training programs, developing and administering grants, establishing check points, community education programming, maintenance of firearms range, specialized and/or narcotics investigation, etc.  
REQUIREMENTS:  Applicants must be certified by the NCCJ Ed & Training Standards Commission, High School Graduate or GED, possess a valid NC driver license, be of good moral character and possess excellent public relations skills.  Must be in good physical condition and complete a physical and psychological exam.  We are an Equal Opportunity Employer. 
CLOSING DATE:  Open until filled 
CONTACT:  To apply: 
Henry King 
301 N Oakum St. 
Edenton, NC  27932 
252-482-9890 
400 South Broad Street
Edenton, NC 27932
United States