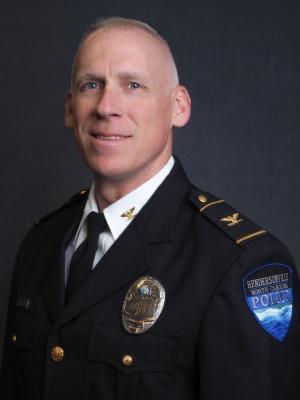 President's Report Jan 2023
Greetings Chiefs and police leaders. Thank you for entrusting me to represent you this year. Having your confidence and respect means a great deal. I am truly honored. 
I am encouraged by your choice of our newly elected association officers. The Board of Directors are highly motivated to serve you and I already see a strong cohesiveness between the members; new and old. Your Executive Director and Legislative Counsel are dedicated professionals committed to furthering this association. They continue to excel beyond our expectations. I am truly thankful to have a strong board and staff leading this association.
My priority as President is to build the foundation for which this association will stand for many years to come. What I mean is that we must create consistent revenue that will sustain our operations every year. For those who may not know, the NCACP currently has three paid employees. Our Executive Director, his Administrative Assistant, and our Legal/Legislative Counsel. They are paid from the revenue we generate from membership dues, sponsorships, and conference earnings. Having sat through several budget discussions, we fight to pay our employees competitive wages simply because we have inconsistent revenue streams. Our revenue is so dependent upon membership and our annual conference that one catastrophe can close our doors for good.
Therefore, I tasked the Board of Directors to identify ways to guarantee our annual revenue. No option is off the table. In the end, we need a revenue stream that does not fluctuate from year to year. While the Board of Directors is elected by you, we need your participation as well. Remember, this is your association. An association where you should have a say in how it moves forward. Please contact your Regional Director and give them your ideas and/or express your concerns. We want to hear from you.
We have a busy year with the long session within the state legislature. Your voice is paramount in informing our elected state leaders to make good decisions in support of our communities. To that end, we need more voices. With more than 400 municipal police agencies in the state, we stand at only about 360 members. Only about half our Chiefs are members of the only association built solely to represent them. Therefore, I challenge you to find the emerging leaders in your departments and get them involved. Invest in their futures by giving them access to the association and to other police leaders around the state. We must foster the next generation of police leaders. It is our responsibility to ensure capable and willing leaders exist who will expand the voice of this association in the years to come. Our legacy should be creating a framework that helps them increase law enforcement professionalism in our departments in our state and beyond.
Thanks again for this opportunity and I look forward to serving you as President. I am excited to see what 2023 brings. I am excited because I know we are prepared to expertly lead our agencies through our continuing challenges. North Carolina law enforcement will be better because of your leadership. Together, we will be industry leaders in enhancing law enforcement professionalism for tomorrow, today.